---
At Floto we make over 300 styles of travel bags, briefcases, handbags, and accessories. We prefer to work with genuine vegetable tanned leather. The supple skin is easy to cut and sand, strong and flexible, and does not contain any toxic or harmful substances.
We only source our vegetable tanned leather from family tanneries in Tuscany that abide by tradition and strictly monitor the production to minimize the impact on the environment.
To make Parma leather we select raw skins with the least amount of blemishes and then use chestnut extracts achieve a natural color that will darken as it ages.
Our second most important ingredient, the bag lining, is made at a textile mill in South Carolina. Our American made 8 ounce cotton duck canvas lining is soft and durable.
One of the most important things to consider when buying a leather briefcase is the latch - this is usually the first part that will break or wear out over time. In 2015 we designed a new latch with a Connecticut company that specializes in high quality brass fittings. Our nickel plated brass locks are top quality and have proven to hold up better over time than the standard locks we have worked with in the past. We designed this lock to be easily replaceable in the event that you loose your key and have to pry it open or it wears out over years of use.
You can rest easy knowing that your Floto lock is covered for the life of your product.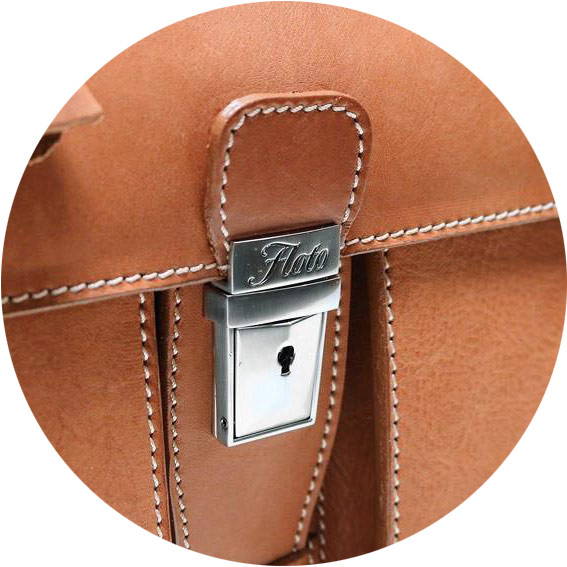 All Floto leather bags are handcrafted in Florence, Italy by skilled artisans practicing techniques handed down for generations.
Proper care is recommended to ensure the long life of your Floto bag. After your bag has acclimated to its new environment and had a chance to breath we recommend applying a leather conditioner to oil the leather and make it last longer. For Parma leather we recommend Floto Leather Cream or similar product annually or as needed. Your Parma bag will darken with leather conditioners so it is a good idea to test it on your strap first to make sure you get the desired effect.